Welcome at Candy Dolls Cattery!
There are few things in life more heartwarming than to be welcomed by a cat. - Tay Hohoff
We are a small in-home cattery located in Hungary, Budapest.
All of our breeding cats are PKD-DNA negative.
I breed persian cats as my hobby with all my passion and love. We only have one litter yearly, because the health of my cats is the most important and I want my kittens to be raised with a lots of attantion and care. They are kept as part of our family and have the run of the house, no cats are ever caged!
That is why, if you decide to choose a cat from my cattery, you will get a well socialized and happy baby who will be able to join its new family easily.
I am convinced that the period for a cat from the minute it was borned till the age of 12-weeks old (when it gets to a new home), is determinative. When you take home a kitten which was never kept in a lap before, it wouldn't feel comfortable there during it's whole life.

I feed only with top-quality food, Royal Canin for Persian Kittens. It was developed , specially for Persian cats in collaboration with breeders. It helps in strengthening the Persian kitten's immune system and highlights the natural beauty and color of coat. With the special size and shape it is easy to chew thoroughly with their short jaw.
We are happy to answer any inquiries, don't hesitate to contact me:

or
0036-20-545-7552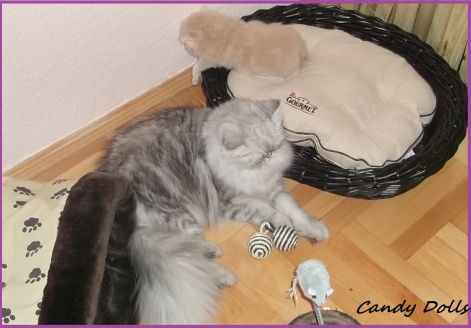 Oldal: About us
Welcome at Candy Dolls Cattery! - © 2008 - 2018 - persiancat.hupont.hu
A HuPont.hu weblapszerkesztő. A honlapkészítés nem jelent akadályt: Honlapkészítés
A HuPont.hu ingyen honlap látogatók száma jelen pillanatban: